You are thinking of supporting our actions financially… BUT… You do not know how much your donation should be to give a meaning to it?
To help you, you can see below examples of significant actions that Taramana do and the amounts it represents! 
Our Objective: giving you an idea of how your donation could help us support our actions! Here is a list of things we finance every year (and at which price!). 
⚠️ This is NOT a wish list!! ⚠️ Just a way to see how your donation will benefit the children. 
Discover below what different amounts represent when put in live action at Taramana in Cambodia:
EDUCATION
1 BACK TO SCHOOL SET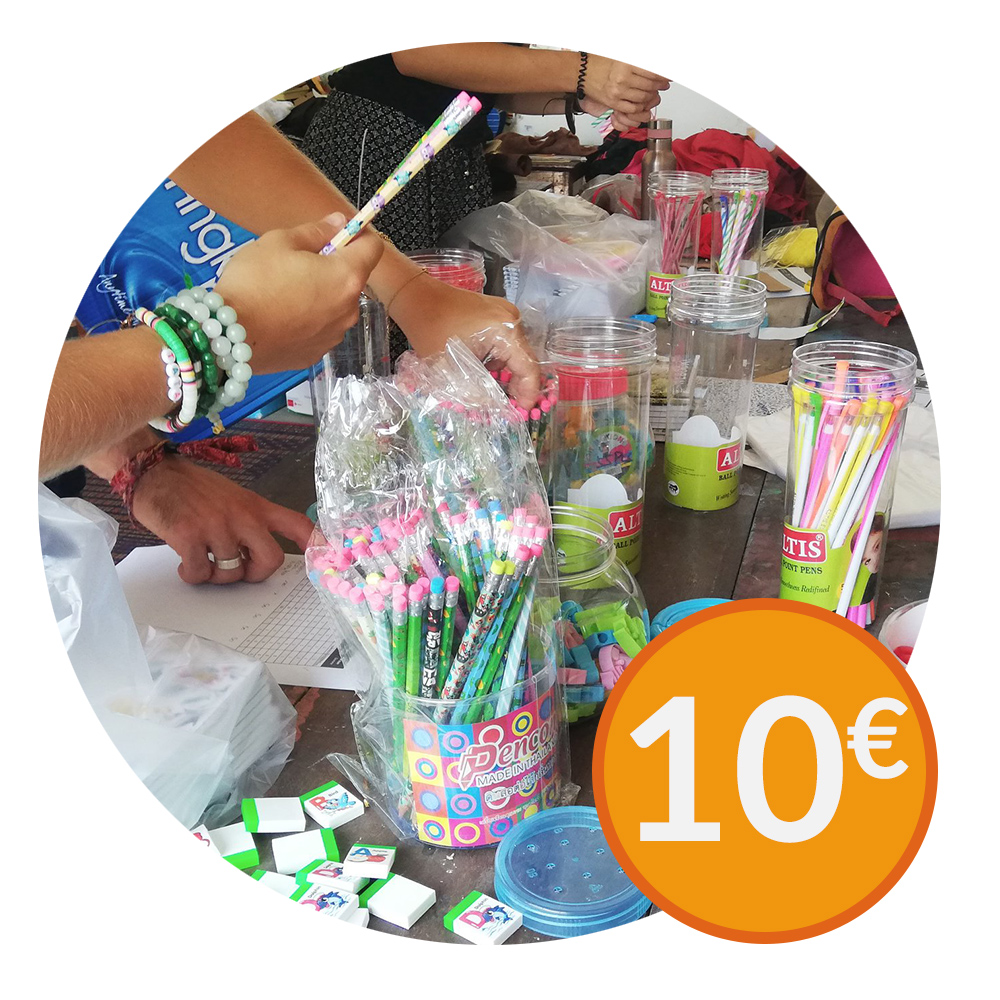 With only 10€, a student can start his school year with a full kit: a (compulsory) uniform and a school bag full of supplies. Notebooks, pens, pencils, sharpener, eraser to erase and start all over again!
15  KHMER TEXTBOOK
Khmer lessons in Taramana are a whole program! This program doesn't come from nowhere, it comes from khmer learning methods recognised in Cambodia. 60€ that will allow 15 students to learn how to read, write and count in their mother tongue.
CULTURAL & SPORTS ACTIVITIES
1 FULL SPORT UNIFORM
Between Rugby and Football, the kids have a lot of sports activities at Taramana! The price for a full sport uniform consists of a jersey, shorts and a pair of stud shoes is 30€.
1 ANIMATION DAY (EXTERNAL PARTICIPANTS)

An afternoon with mini-games, an initiation to traditional dancing, a magic show, circus activities… So many things that will allow the kids to have extra-curriculum animations for their delight (and the staff's!).
HEALTH & NUTRITION
1 SET OF VACCINATION FOR ONE KID

Our Health program includes a very important step: the annual vaccination campaign. A donation of 15€ will allow us to buy vaccines for one kid at the school.
1 YEAR OF DEWORMING TREATMENT FOR 150 CHILDREN

We provide an intestinal deworming cure at the rate of a distribution of tablet once every 4 months to all the kids at the center. Treating 150 kids in the center represents an amount of 55€ every year… Bye bye to all the non-wanted who would want to settle in the bellies of our precious children!
SOCIAL SUPPORT
1 FIRST NECESSITY KIT FOR ONE FAMILY

When a new family is part of the social program in Taramana, they receive a first necessity kit depending on their needs. This kit usually includes a mosquito net, covers, and hygiene products.
1 MONTH OF RICE FOR THE KIDS AND THEIR FAMILIES

At the center of almost every meal, rice is an indispensable part of the food Cambodian families eat. 300€ represents an amount of 550 kg of rice. It covers a month of lunches at the centre for the kids as well as a distribution of around fifty bags of rice for the families.