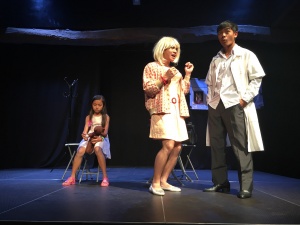 The Taramana francophone theatre group gave two exceptional performances on February 7th and 8th at 7 pm at the French Lycée René Descartes in Phnom Phen.
Following on the success of the French tour, our nine little "Little Rascals" made an even stronger stage come-back at the French Lycée René Descartes in Phnom Pehn. 
With support from solidarity partners such as the French Lycée and the PPA (Phnom Penh Accueil) Association, the troop finally put on their slapstick comedy called "Allô Docteur, have you seen my Thing-a-mi-jig?" written and staged by the Taramana founder.  Francophones came out to cheer on the actors on these two special nights which also included beatbox and juggling performances.  
A new project underway for 2018
With the undeniable pleasure of acting in front of an audience and their successful performances during the past France tour, a new play is in the works which will be even more hilarious and filled with surprises.  
All the profits raised from ticket sales went to support the "Little Rascals".