Taramana provides social support to children and their families through individualized follow-up, which enables our teams to identify the specific needs of each family and to provide an adapted response.

In 2020, Taramana carried out an evaluation of the impacts of Covid-19 on the socio-economic situation of the usual beneficiary families. In the field, the social worker, Mr. Dararith Eng, conducted all the interviews and administered the questionnaire to the families with the help of three French volunteers, namely Mr. Sammy Kouhli, Ms. Cécile Roubeix and Ms. Laurie Andriamanarivo.
The project has two components: the first component aims to understand the socio-economic context and the new needs of families that emerged during the Covid-19 pandemic. The second component aims to provide additional assistance tailored to these families in order to promote their economic and social resilience in the medium term.
A short wrap-up: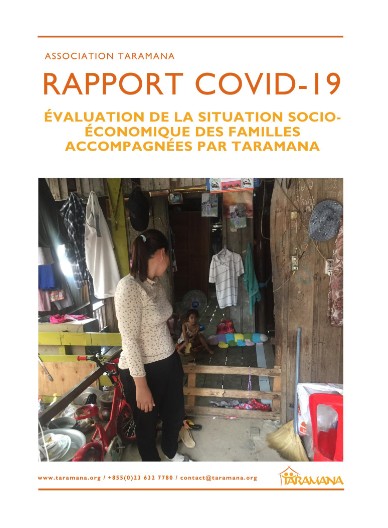 The Covid-19 epidemic had a direct and immediate impact on the population of the Boeng Salang slum. The results of the survey tend to show that the crisis has led to an increase in poverty among families, as 71% of families (33 out of 46 families) reported having lost money due to the pandemic. The average monthly income of families fell from €365 to €278 (a decrease of 23%).
The majority of parents are so-called unprotected workers (self-employed, precarious workers, odd job economy). They are therefore particularly vulnerable to the economic impact of Covid-19. These jobs offer weaker protections and are the first to be affected by redundancies.The Covid-19 has not only had an impact on the economic situation of families but also on the education of children, due to the closure of schools for 7 months in Phnom Penh. The learning time lost due to the closure of schools in Phnom Penh affected skills development. The epidemic is therefore likely to reinforce socio-economic inequalities in education.
Click here to access the complete report with survey results (in French).