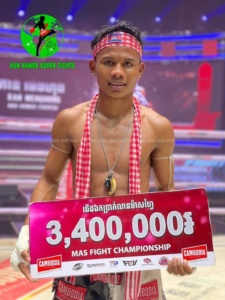 This month, we had the chance to receive the visit of Kan Meng Hong, a former student of Taramana who became a recognized champion in the boxing world. On January 8th, he won his 2 matches at the Kun Khmer Super Fights II, organized in Phnom Penh. Meeting with Kan Meng Hong and review of his career:
Kan Meng Hong grew up in Boeng Salang, with his older sister and grandmother. He attended public school by half-day and the Taramana center the rest of his time. In order to help his family, he soon quit school to work in construction at the age of 12. Boxing was something he fell into at a very young age. When asked why he started this sport, he admits with a laugh "I was a brawling child with a lot of energy, I had to channel it. At 13, I was already fighting with older teenagers!"
Boxing is his passion, a true vocation. At the age of 16, he joined a club to train for free in his spare time. After only two days, the coach offered him to represent the club for a fight. He had to face an opponent of the same age and weight as him. Kan Meng Hong did not hesitate for long. A few moments later in the ring, the victory fell. The machine was launched!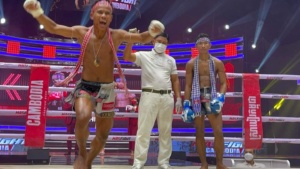 Kan Meng Hong has now a nice record of success: out of 80 fights, he has lost only 12 times. 15 of his opponents have also given up during the fights. He has been on the national sports list for 3 years now.
Boxing imposes a framework and very strict rules, one must know how to make sacrifices. His trainings are supervised and he must submit to a particular diet: bye bye fast food and energy drinks. Ken Meng Hong follows a high protein diet and does weekly strength training in the weight room. What he particularly likes about boxing is fighting against others, pushing his limits and learning about himself. The values instilled by this sport have made him grow. Respect, determination and humility are now an integral part of his identity.
In terms of goals, Kan Meng Hong is always aiming higher. For the next few months, he would like to continue to win his matches in order to save more money and continue to help his family. From next year, he wants to join the national delegation for the Southeast Asian Games, which will be held in 2023 in Cambodia. He didn't tell us anything about the Olympic Games in Paris in 2024, but we hope he will participate!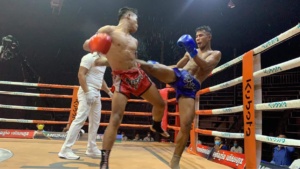 Now 19 years old, he left Boeng Salang to live closer to his training place, at the Old Stadium of Phnom Penh. He has a room in an apartment, which he shares with 3 other roommates. His family also left Boeng Salang, to settle in the same area as him. His struggles allow him to support himself and his family in a comfortable way. Whenever he has some free time, he spends it with his grandmother and the rest of his family.
Kan Meng Hong is one of Taramana's most emblematic figures. His childhood in the center, he keeps memories full of it! His best memory is undoubtedly the parody clip of Gangnam style.
He also enjoyed all the activities offered, especially soccer and rugby. He also loved the hip hop with his team, which gave him the opportunity to perform in front of Hun Mani, the son of Prime Minister Hun Sen.