Supporting children's education also means improving their living conditions. Because children can't study with an empty stomach, Taramana gives them an access to a balanced diet.
Raising children's awareness of a better diet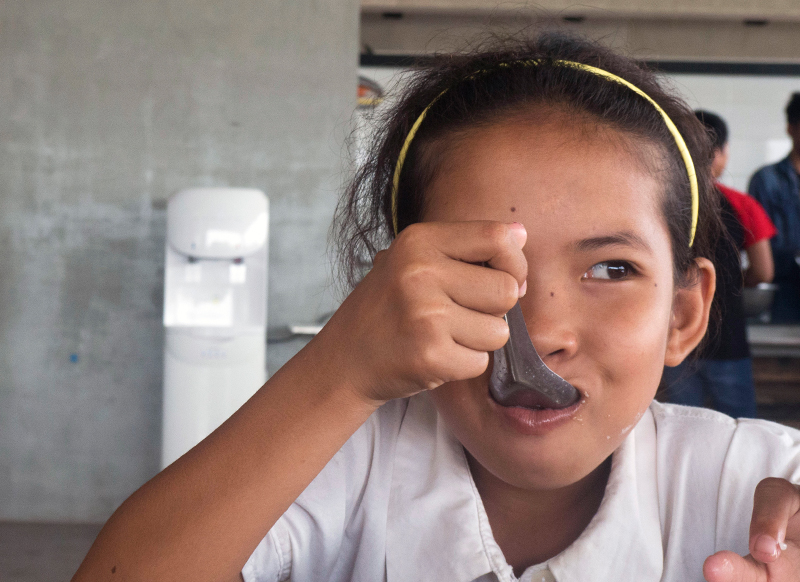 At Taramana, we believe that it is essential to teach good eating habits to the children in order to protect their health. Our objective is to both raise awareness among children, but also to give them points of reference.
Visal, our nurse, discusses nutrition topics during his monthly health prevention sessions. For instance, he reminds the students of the importance of eating fruits and vegetables every day.
At our canteen, children benefit from a balanced meal every day. For three years now, we have been offering two vegetarian meals each week.
Supporting families
Every first Sunday of the month, Taramana distributes about a ton of rice to the families in Boeng Salang who need it the most. Our social investigation determine each family's needs and situation.
More than providing a nutritional intake, giving rice to families reduces their expenses for the month, and reduces the risk that parents  decide to take their children out of school to make them work and bring an additional income.

A program supported by important partners
We would like to thank our partners Eric Kayser and the AEFC (Association d'Entraide des Français du Cambodge) thanks to whom we are able to provide two snacks a day to children and offer snacks and treats during events at the center.
Our students have plenty of energy to focus on their studies and thrive during fun activities!
You want to go further? 
?I wish to support Taramana's action
it's over here
?I subscribe to Taramana's newsletter
it's over there